71% of U.S. Broadband homes have Wi-Fi and 100% of These Homes Will Experience Problems.
Single-Band Wi-Fi routers offer a very limited channel selection and there can often be interference with your neighbor's Wi-Fi. Other sources of interference can come from common appliances in your home such as microwave ovens and baby monitors. All these can cause interrupted service and intermittent disconnection. Look for a Wi-Fi router with both 2.4 and 5.0 MHz bands. Your Wi-Fi satisfaction will greatly increase.
Network congestion within your own home can be the cause of most Wi-Fi problems. Every connected device is transmitting data and special care must be taken to insure that an unexpected download or upload from a device isn't't causing you to max-out your bandwidth and crashing the whole network.
Your data represents your digital life. Protecting it has become the issue of the day. Choosing the right equipment and then implementing their security features will go a long way toward keeping your network safe. But most important is education about the dangers of exposing your digital data to someone; whether posting too much information on Facebook or opening unknown e-mail. Safety requires a very personal commitment.
A PERFECT SOLUTION – ASPIRE MANAGED Wi-FI – $10.00
Wi-Fi is the epicenter of your Internet experience. Managing your Wi-Fi network is a combination of using the correct Wi-Fi equipment, locating the ideal spot in your home and then monitoring for problems. Whether binge watching your favorite show or building the backyard theater of the future, choosing the right Wi-Fi equipment and having expert assistance to manage it will make all the difference. Managed Wi-Fi from LightBurst Broadband is the answer. We understand Wi-Fi so we can identify problems, correct them and for a small monthly fee keep your network humming along.
LightBurst Broadband's GigaSpire with Mesh-Enhanced Carrier Class Wi-Fi deliver a sensational subscriber experience. With expansive Wi-Fi coverage, intelligent adaptability, Cloud manageability – the GigaSpire is designed to exceed your expectations and help you become a Wi-Fi hero. The GigaSpire also supports interoperability with IPTV set-top boxes and unparalleled Wi-Fi analytics. No more experiencing Wi-Fi issues in hard-to-reach areas of your home. The GigaSpire can cover your whole house using an multiple antenna array and getting you great signal strength in every room.
So maybe your house is unique with a few hard to reach spots. An GigaSpire u4 Mesh satellite is the answer to extending your Wi-Fi service to include all areas of your home — and beyond. Used in combination with the GigaSpire, the Mesh-Enhanced Carrier Class Wi-Fi is a solution designed specifically for difficult Wi-Fi coverage situations. The GigaSpire u4 Mesh satellite extends all the features of the GigaSpire such as smart channel selection and dynamic frequency selection. The u4 Mesh satellite offers a whole home Wi-Fi service that ensures the highest quality connection throughout an entire home or small business. When deployed in conjunction with LightBurst Broadband's Managed Wi-Fi service, the GigaSpire and GigaSpire u4 Mesh satellite provides unsurpassed Wi-Fi quality and remote customer service. In other words, a solution that keeps your network running.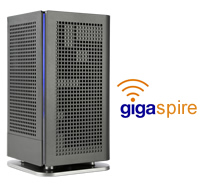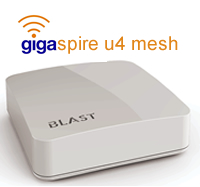 MANAGED WIFI GIVES YOU COMPLETE CONTROL OF EVERY ASPECT OF YOUR FAMILY'S INTERNET EXPERIENCE
We will help you download and configure our unique CommandIQ app to remotely control your family Wi-Fi network from your Apple or Android device. With Managed Wi-Fi from BurstSpeed Broadband, your home Wi-Fi experience will go from frustrating to liberating.
Your devices already "know" your network, so you don't have to change or add any new settings, passwords or configurations.

As you move around, your GigaSpire will seamlessly (and automatically) switch you to the access point (or satellite) that gives you the best connection for where you are in or outside the house. ("Seamlessly" means you won't notice it. All you will notice is better Wi-Fi coverage everywhere.)

If the channel or frequency of your access point gets too crowded, or encounters interference from other devices or your neighbors' Wi-Fi network, the GigaSpire will seamlessly (and automatically) switch you to a different frequency

We manage it all, making Wi-Fi something you just won't need to worry about anymore.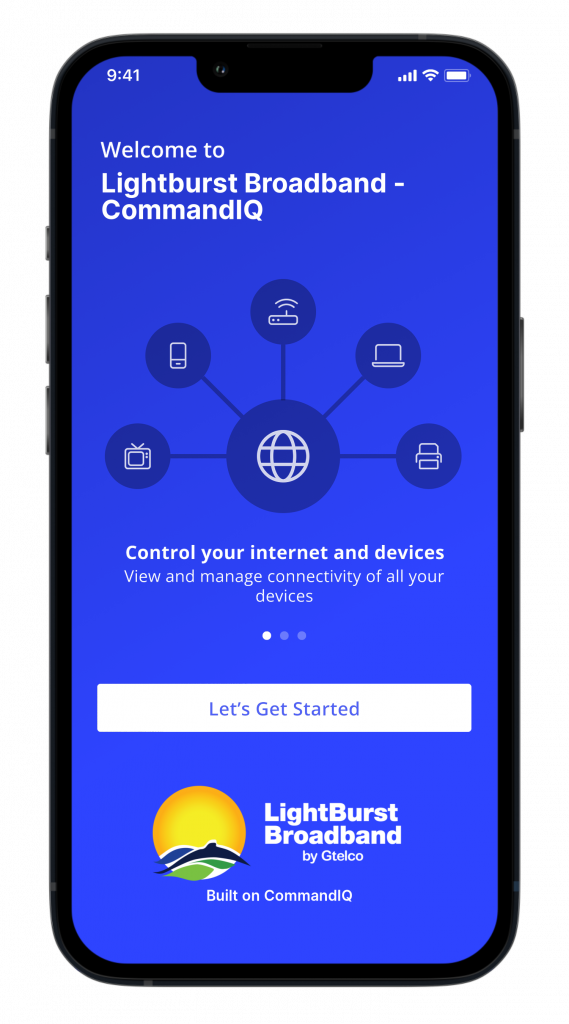 CommandIQ® delivers everything you need to control your entire home Wi-Fi experience. The simple, intuitive design of the app puts the information you need at your fingertips to set your network priorities for performance and security for every device, application, room, and family member. ​
Designed exclusively for use with GigaSpire BLAST systems, this app provides easy navigation, enabling you to:​
Reset your primary SSID or password for Wi-Fi

Run bandwidth tests to monitor network performance ​

View and assign connected devices to profiles, places and/or priority networks

Create guest, work-from-home or custom wireless networks

Add new devices to the network quickly and easy through the app's WPS feature ​

Set parental controls by scheduling Internet downtime, blocking advanced security options, and new capabilities